Paleo Diet Foods to Eat: Proteins, Vegetables, Fruits, Fats
Paleo Diet Foods to Eat: Proteins, Vegetables, Fruits, Fats
Paleo diet foods are nutrient-dense proteins, vegetables, fruits, and fats — that any human, from cave men to modern man, would recognize as food. Eating Paleo foods will power your body with all the healthy fats, vitamins, and minerals it needs to be lean, strong, and healthy.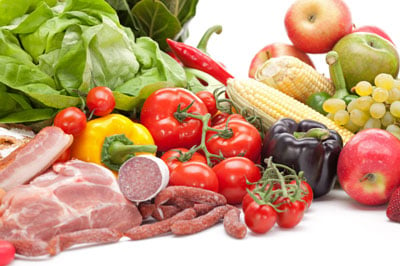 Credit: ©iStockphoto.com/amriphoto 2011
The Paleo diet focuses on animal proteins from high-quality sources. Surely, you'll find a lot of your favorites on this list:
Paleo-Approved Proteins

Beef
Nitrite- and gluten-free
sausages
Bison
Organ meats
Chicken
Pork
Duck
Pheasant
Eggs
Quail
Elk
Shellfish
Fish
Turkey
Goat
Veal
Lamb
Venison
Nitrite- and gluten-free
deli meats
Wild boar
A rainbow of nutrient-rich vegetables makes your plate look appetizing and packs a major nutritional punch. Eat at least two servings of the following vegetables at every meal, and enjoy as much variety as possible:
Paleo-Approved Vegetables

Artichoke
Eggplant
Parsnip
Arugula
Endive
Pumpkin
Asparagus
Escarole
Radish
Beets
Garlic
Shallots
Bell peppers
Greens (beet, collard, mustard, and turnip)
Snow peas
Bok choy
Green beans
Spaghetti squash
Broccoli
Kale
Spinach
Brussels sprouts
Kohlrabi
Sugar snap peas
Cabbage
Leeks
Summer squash (zucchini, yellow summer squash, crookneck,
marrows, straightneck, scallop, and cocozelles)
Carrots
Lettuce (all types)
Sweet potatoes/yams
Cauliflower
Mushrooms
Tomatoes
Celery
Nori (seaweed)
Tomatillos
Chile peppers
Okra
Turnips
Cucumber
Onion
Winter squash (butternut and acorn)
Fruit delivers its nutrition with a side serving of sweetness, so vegetables should always be the first produce priority — but one or two servings of fruit per day are satisfying and nutritious; choose any from the following table. As your body becomes balanced and your internal environment becomes cleaner and stronger, you may be able to add more fruit, but at the beginning of your transition to Paleo, sticking to one or two servings is your best strategy.
Limit your consumption of dried fruit; it's easy to overeat and lacks the nutrition of fresh fruits, while concentrating the sugars. Fruit juice should also be avoided because it provides all the sugar of the fruit, without the fiber and satiety of eating.
Paleo-Approved Fruits


| | | |
| --- | --- | --- |
| Apple | Grapefruit | Orange |
| Apricot | Grapes | Papaya |
| Banana | Honeydew | Peach |
| Blackberries | Kiwi | Pear |
| Blueberries | Kumquat | Pineapple |
| Cantaloupe | Lemon | Plum |
| Cherries | Lime | Pomegranate |
| Clementine | Lychee | Raspberries |
| Cranberries | Mandarin | Strawberries |
| Date | Mango | Tangerine |
| Fig | Nectarine | Watermelon |
Fats ensure that you feel satisfied after a meal and are vital to the function of your body and brain — plus they taste really, really good. So go ahead and eat some of the following healthy fats with every meal to ensure proper absorption of nutrients and to please your taste buds.
Paleo-Approved Essential Fats

Avocado
Clarified butter (organic, grass-fed only)
Coconut (butter, fresh, flakes, oil, and milk)
Nuts and nut butters (almonds, Brazil nuts,
cashews, chestnuts, hazelnuts, macadamia nuts,
pecans, pistachios, and walnuts)
Olives and olive oil
Seeds (pumpkin, sesame, sunflower, and pine nuts)