How to Make a Halloween Jack-O-Lantern Cake
How to Make a Halloween Jack-O-Lantern Cake
Let this festive jack-o-lantern cake be the center piece of your Halloween party. A fluted bundt pan creates a realistic look, and the Brown Sugar Cake fits the tenor of October . . . but is delicious year-round.
Assembling and Decorating the Jack-O-Lantern Cake
Tools: Two 10-fluted bundt pans, #11 icing tip
Preparation time: 20 minutes
Baking time: 50 minutes plus 30 minutes for cooling
Decoration time: 35 minutes plus 1 hour for refrigeration
Yield: 24 servings
2 batches Brown Sugar Cake batter
2 batches buttercream frosting
Black food coloring gel
Leaf green food coloring gel
Sunset orange food coloring gel
Banana, unpeeled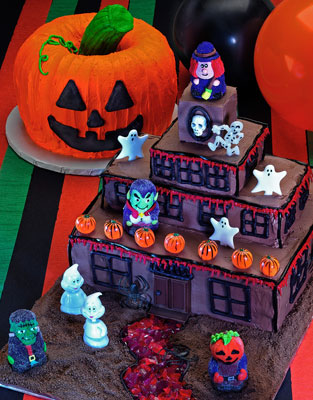 Delight your little tricksters with this Halloween jack-o-lantern cake.
Divide and tint the buttercream frosting as follows: 1 cup black, 1⁄2 cup leaf green, and the remainder orange.

Turn one cake upside down, and frost it with orange buttercream. Put the other cake on top of it, right side up, and frost the entire cake orange. With the last coat of frosting, frost the cake with a downward motion to create the striations found on a real pumpkin.

Outfit a pastry bag with a coupler, a #10 tip, and black frosting. On the side of the pumpkin, pipe two triangles for the eyes, one triangle for the nose, and a series of smaller triangles for the mouth.

Cut the banana in half, and cover it with green frosting. Insert it stem side up into the hole at the top of the pumpkin.