Trimming and Slicing Mushrooms
Trimming and Slicing Mushrooms
Trimming and slicing mushrooms are worth the effort because of the flavor they impart. Whole mushrooms need some cleaning and trimming — and slicing if the recipe calls for it.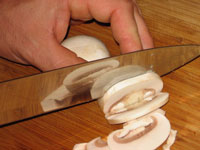 3

Place the mushroom caps, flat-side down, and slice them perpendicular to the cutting board.

This technique gives you strips of mushroom at whatever thickness you cut them.