The SPSS Installation Sequence
The SPSS Installation Sequence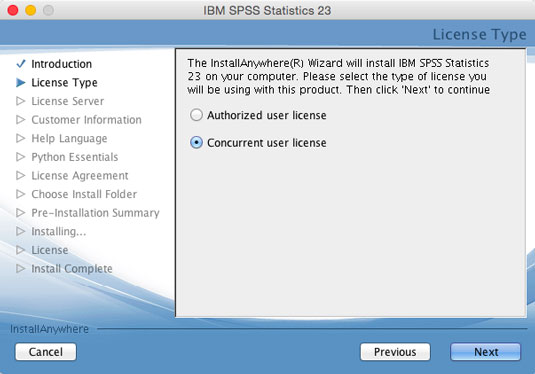 17
With the dialog box shown on your screen, select the type of license you have and click Next.
After you make your selection, you're greeted by the dialog box shown next.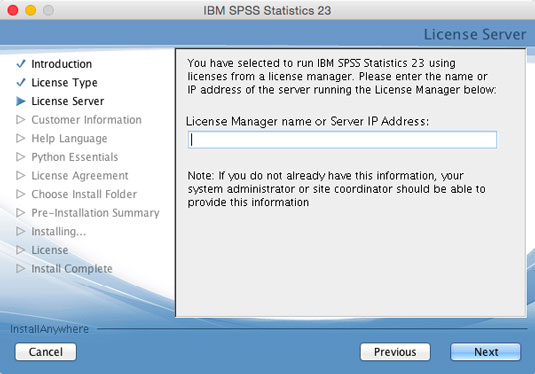 27
Enter the license manager name or IP address and click Next to move forward.
The next dialog box asks for your name and organization.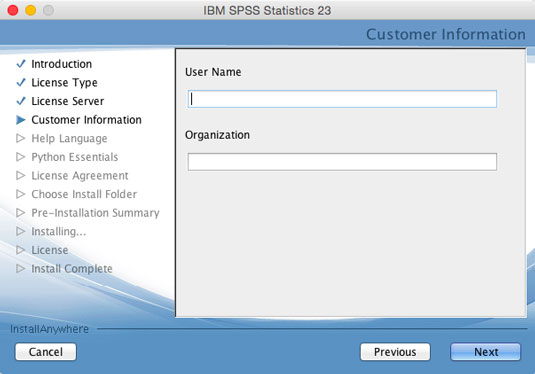 37
Enter your name and organization.
You can put anything you like in the Organization field, but keep it clean, because it could pop up on the screen one afternoon while your mom is watching. When you click Next, you're asked if you want to install the Essentials for Python package.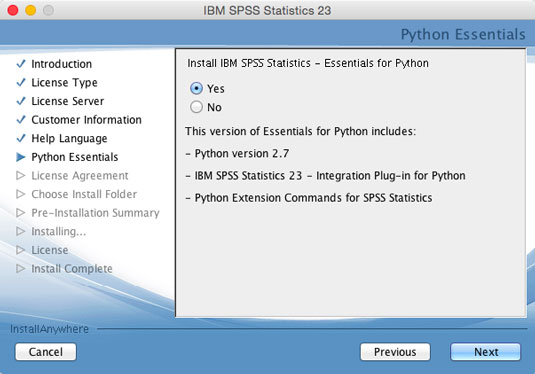 47
Decide whether you want to use Essentials for Python.
You can decide for yourself if you want to use Python with SPSS. If you can't think of a reason you would need it, select No and move on by clicking Next.
Essentials for Python does allow you additional options and access to more techniques, so you may want to consider installing this.
After you make your selection, you're greeted by the license agreement.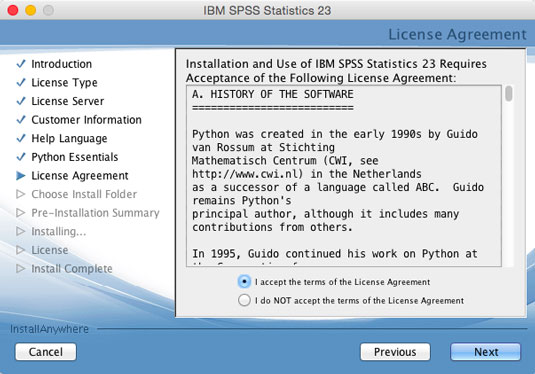 57
Accept the terms of the license agreement to proceed.
Simply do what it says: Read the license, and if you accept the terms, select the I Accept the Terms of the License Agreement option and then click Next.
The dialog box that appears at this point asks whether you really want to install SPSS. All you've done so far is answer some questions; nothing has been installed. This dialog box has a Previous button you can click to go back and change your answers. The Next button unleashes the installation software onto your computer. The dialog box also has a Cancel button if you chicken out, or if you enjoyed the process so much that you want to drop everything and do the entire thing all over again.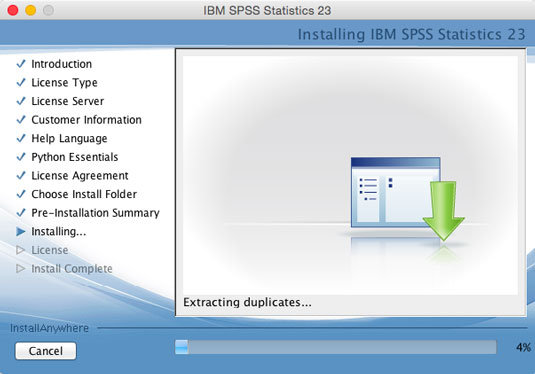 67
If you actually want SPSS on your computer, click Next.
An animated dialog box reassures you that something is happening. This dialog box, lists every file being installed, while a progress indicator moves across the screen. The filenames flicker by pretty fast; only Superman or Data from Star Trek could read them. Normal mortals see mostly a line of constantly flickering letters.
The progress indicator marches across the screen until it reaches the far right. At that point, the flickering of filenames will stop. For a time, nothing moves. Be patient. Just about the time you start to wonder whether something has gone wrong, you see the next dialog box indicating success.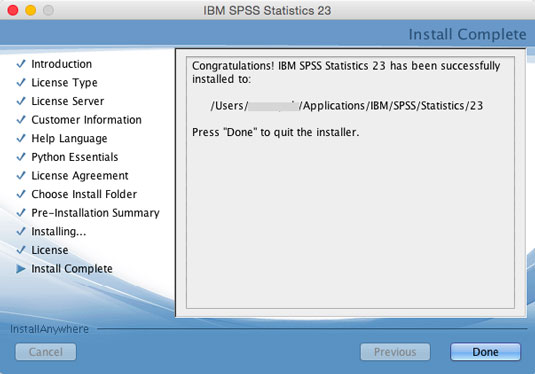 77
The last dialog box that you see is Install Complete. Click Done.
The dialog box disappears, and your software is ready to run.