How to Set Up Your MySpace Profile
How to Set Up Your MySpace Profile
MySpace makes it easy to add, erase, or change your profile information whenever you want. Simply go to your home page and click the Edit Profile link in the top-left corner of your home page. The link takes you to the Profile Edit page. The Personal Info tab on the Profile Edit page is divided into eight separate screens you can select to edit different parts of your profile.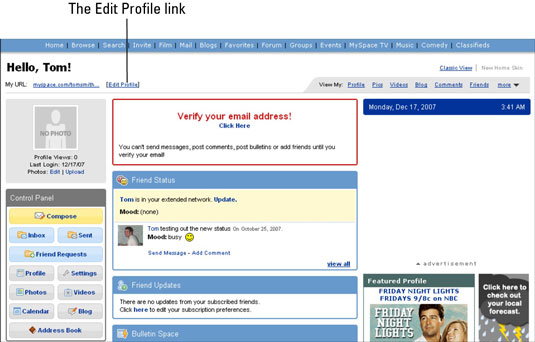 Interests & Personality: The Interests & Personality section allows you to enter information about your personal interests as well as the reasons why you're using MySpace. All the information you enter on this page appears on your main MySpace page.

All the items you entered in these fields are automatically displayed as clickable links on your MySpace profile page. Clicking the entries on a profile page takes you to a MySpace search page associated with the words you clicked.

Name: Click the Name link at the top of the Profile Edit page to make two major changes to your profile. Display Name is the name that appears at the top of your MySpace page. It's also the name that other users see when they encounter your profile link when you appear in other users' friend spaces, when you send messages, or when you post bulletins. First Name/Last Name allows you to add or delete your first and last names.

Basic Info: Click the Basic Info link to fill in specifics about your occupation, ethnicity, body type, height, and the reason you use MySpace. MySpace includes your gender, birth date, country, and postal code information you entered when you signed up. Feel free to change or erase these automatically filled fields.

How you fill out the I Am Here For field can be an important decision that determines what type of user contacts you. If you choose only the Friends and Networking check box, you're less likely to get people cruising MySpace for some adult action than if you also check Dating and Serious Relationships. Users who do not check Dating and Serious Relationship are less likely to get unwanted propositions than those who choose to check those boxes.

Background & Lifestyle: This set of choices allows you to share your marital status, sexual orientation, hometown, religion, education level, and income with other MySpacers, among other things.

How you choose to fill in the Marital Status field can help determine the type of user that contacts you on MySpace. Users who select the Swinger or Single option are more likely to get unwanted propositions than those who select Married or In a Relationship.

Schools: Adding the names of the schools you attended to your profile is an easy way to find and make contact with other MySpace users who attended the same schools as you. Clicking the Schools link at the top of the Profile Edit page takes you to a search screen where you can find a high school, college or university, or trade school you attended.

Companies: You can add the companies you work for currently or worked for in the past to your profile. Click the Companies link at the top of the Profile Edit page. You can enter the company's name, city, state/region, and country, as well as your title, the division you worked in, and the dates you were employed.

Networking: MySpace provides an online venue for networking with people either in your profession or in a field you're interested in. Click the Networking profile at the top of the Profile Edit page to add networking information to your profile.

Song & Video: Bands can load their music on their MySpace sites for fans to listen to or download. Users can even include single songs on their profiles. If you hear a song on MySpace you want to add to your profile, simply click the Add link associated with the song.

There's no need to worry about breaking any music copyright laws – adding songs to your profile is about as legitimate as it gets. You can also add one of your videos or another MySpacer's video onto your My Video Space of your profile.
After you feel comfortable with all the information in your profile, click the View My Profile link to preview your profile. Your profile page is now filled with all the information you entered.