How to Redeem Skype Credit from a Voucher
How to Redeem Skype Credit from a Voucher
Many third-party products include vouchers that you can redeem for Skype credit. You can redeem Skype credit from a voucher for services such as calling phones, an online Skype number, and voicemail.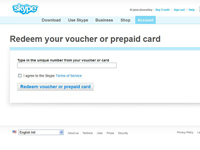 1

Go to the following Web page: https://secure.skype.com/store/voucher/redeem.html

Enter your Skype Name and password. If you are already signed in (you may have recently looked at your My Skype Account Overview page, which requires that you sign in), your Skype Name automatically appears in the form and you are not asked to provide a password.
2

Click the Redeem button at the bottom of the page in the Redeem voucher section. Enter your voucher number in the Type in the unique number from your voucher or card box.

You don't have to specify the kind of Skype credit you are redeeming. From your voucher number, Skype can automatically tell what and how much you are redeeming.