How to Forward Calls with Skype
How to Forward Calls with Skype
Skype's call forwarding feature is simple to set up and operate. The call can be forwarded to a Skype Name of your choosing. Optionally, it can be forwarded to a regular telephone number, although you have to pay a fee for this.
What happens if the Skype number you are forwarding to doesn't pick up the call? Skype allows you to designate up to three call forwarding numbers. All of the phones that you forward the call to will ring at the same time. You simply answer whichever you want.
Skype-to-Skype forwarding is always free. Forwarding to a landline or to a cell phone incurs Skype charges and requires that your account have Skype credit. The account that does the forwarding pays for the call, which makes sense. Suppose you're in the United States and, from your PC, you skype someone located in France. If that person has enabled call forwarding to his or her cell phone, then he or she (and not you) incurs the Skype charges.
You must have Skype credit to forward a call to a landline or mobile telephone number.
For call forwarding, follow these steps:
1

Start Skype and choose Tools→Options from the main menu.

The Skype Options dialog box appears.
2

Click Calls, then choose Call Forwarding.

You can forward calls to one number or multiple numbers.
3

To forward calls to one number, select the Forward Calls When I Am Not on Skype check box.

You can choose whether you want to forward calls to a Skype account or a phone number.
4

Enter a Skype name to forward calls to another Skype account, or enter a phone number in the Enter Phone Number combo box to forward calls to a phone.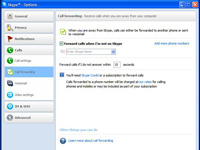 5

If you desire, check the Forward calls if I do not answer within 15 seconds box.

You can also increase the number of seconds.