How to Make a Whimsical Wire-Scroll Photo Holder
How to Make a Whimsical Wire-Scroll Photo Holder
A beaded, wire-scroll photo holder is an inexpensive, homemade gift for anyone on your Christmas list. Experiment with different colors and combinations to create a personalized present, and add more wires if you'd like.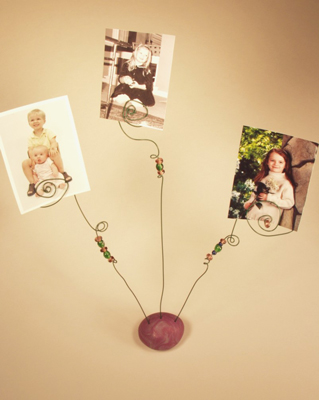 To make this project, you need the following:
Round-nose pliers

Three 24-inch pieces 16-gauge green floral and craft wire

Eight 5mm doughnut beads, drilled front to back, lavender

Five 6mm oval beads, green

Two 2mm round beads, blue

2 ounces of polymer clay

Hypo-cement
Start by bending 1 piece of wire. Use round-nose pliers to start a scroll design.

For this project, start the scroll on just one end.

Here are the stages of a basic scroll. For this project, you start the scroll on just one end of the wire.

Continue to turn the scroll with your fingers. Create a rough, non-symmetrical scroll with at least five or six concentric (sort of) loops.

The loops will hold up your photo.

Create wire scrolls to hold photos.

Measure down roughly 1 inch from the bottom of your large scroll. Make one or two small loops with round-nose pliers.

This loop will help hold your beads in place.

A single loop, and a series of loops.

Slide beads on the wire from the bottom up in the following order: lavender, green, lavender.

Create another loop or two under the group of beads to secure them on the wire.

Repeat the process with the remaining wire and beads.

Vary the number of beads and the number of loops to create visual interest in your piece. Set aside.

Roll your clay into a ball. Slam it flat on your work surface to give it a flat bottom. Shape the top as you like.

Insert your wire and bead components into the clay lump. Remove the wires, but keep the holes.

You want to harden your clay with the holes already in place.

Bake the clay according to package directions. Allow it to cool completely.

Squirt a dab of hypo-cement into one hole and insert your wire. Repeat with the other wires and holes. Allow your piece to set for about an hour.

If necessary, gently arrange the wires, as you prefer.