What Is Instagram and How Can I Start Posting Photos?
What Is Instagram and How Can I Start Posting Photos?
Instagram is the premier social media venue for sharing your photos and short videos. A relatively new social network, Instagram launched in October 2010 and was originally only available on Apple devices (iPhone, iPad, iPod Touch). In April 2012, Instagram also became available for Android phones. Facebook made history in that same month by offering to pay $1 billion in cash to purchase Instagram (the deal officially closed in September 2012). As of fall 2013, Instagram had over 150 million users.
Instagram allows you to capture photos using the app or import photos from other sources on your mobile device. You can then apply a variety of digital filters to your photos, rotate and crop them, and apply borders to them.
As you publish your photos in Instagram, you have the option to post them simultaneously to other social media sites, including Facebook, Twitter, Tumblr, and Flickr. You can add captions to your images; tag friends who use Instagram in your images; and add your images to a Photo Map, which uses a GPS service to place the photos on a world map that both you and other Instagram users can use to see who's been taking photos and where.
Once your images are published, your friends can like them and comment on them.
In June 2013, Instagram started allowing users to record and share up to 15 seconds of video. Some people considered this as Facebook's way of competing with Twitter's new Vine application. Photography remains far more popular than video on Instagram.
How to create an Instagram account
Using your smart phone or mobile device, download the free Instagram app from either the Apple Store or Google Play. Once the app is downloaded and installed on your device, open it and follow these steps.
Accept Instagram's Terms of Use.

The Terms of Use are pretty similar to those for any social media network. You must agree that you will not use Instagram for illegal activity; you will not solicit the e-mail addresses or passwords of other Instagram users; you will not stalk or bully other users; you will not introduce viruses or spyware to the app; and a few other basic things.

The Terms of Use also prohibits you from posting certain types of photographs. If you post the following things on Instagram, your account could be permanently deleted.

Violence

Nudity or partial nudity

Hateful or discriminatory images

Illegal activities

Pornography or sexually suggestive images

Create your profile.

Your Instagram profile includes space for a short bio, a link to your website, and a profile photo that acts as a thumbnail on your posts. You can also establish whether your posts are public or private (meaning that only your followers can see them, as opposed to anyone who uses the app).
Once you complete these two steps, you're ready to start snapping, publishing, and sharing your images.
Instagram's main tabs
The five tabs you'll use most often on Instagram are along the bottom of any screen in the app.

A photo as viewed on Instagram.
Here's a rundown of what you can accomplish in each of the five tabs along the bottom:
The Home tab (shaped like a house on the far left of the row) takes you to your main page, where you'll see your friends' photos and yours in chronological order, newest first.

The Explore tab (shaped like a star), lets you find posts and people to follow that Instagram thinks you'll like.

The Camera tab (the blue button in the center) is what you'll push to take a photo using the Instagram app.

The News tab (a heart inside a talk bubble, to the right of the Camera button) is where you can see the photos that your followers have liked, or a list that details both the people who have liked your photos and your newest followers.

The Profile tab (shaped like a page from a website or magazine, on the far right) is where you edit your profile, see all the photos you've posted, view your photo map, see the photos you've been tagged in by friends, and see a list of the Instagramers you follow, as well as who is following you.
How to find friends on Instagram
Once you sign up for an Instagram account, finding your friends and other people to follow is easy. Open your Profile tab and tap the top right icon to open your Options tab (it looks like three stacked squares on an Android phone, or like a gear on an Apple device). Then click Find Friends.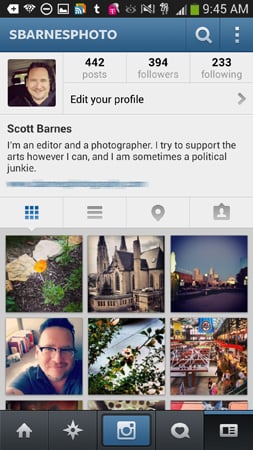 The Search and Options features are to the right of your user name along the top. This is the Android version; on Apple devices, the Options icon is a gear.
Instagram figures that you were on other social networks before trying theirs, so you can choose whether to find friends using your Facebook friends list, or from your phone's Contact List. Whichever you choose, once you see a list of your friends that have Instagram accounts, you can click Follow next to any or all of their names to start following them (or click Request for friends who have their Instagram accounts set as private).
You can also tap the Explore tab at the bottom of your app (the one that looks like a star). The photos that show up here are images that the folks at Instagram consider the most interesting recent photos, from the people most worthy of following (Instagram doesn't reveal how they determine this, but they promise they do more than count Likes or feature users with a lot of followers). The photos that show up at Explore come from all over the world.
Finally, you can use the Search bar at the top of your profile (it looks like a magnifying glass). Here, you can search for specific Instagramers (if you know someone's Instagram profile name) or you can search tags. Tags work like keywords to search for things you enjoy. For example, let's say you're interested in French food. Typing "frenchfood" into the search box yields over 45,000 photos that have been tagged as such (note that you have to run multiple words together).