How to Unbox and Charge the Fire Tablet
How to Unbox and Charge the Fire Tablet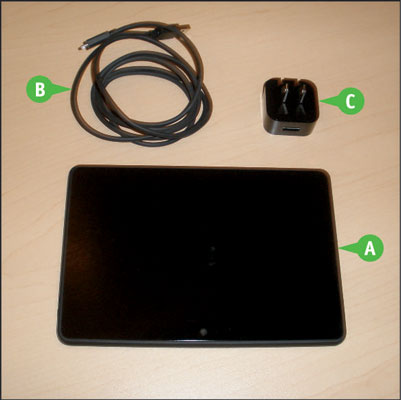 14
Open the box and remove its contents.
The Fire tablet looks like this. The box also contains a USB cable. Make sure you see a power adaptor.
24
Connect the USB end of the USB cable to the power adaptor.
Check the orientation of the USB connector and the power adaptor; the USB connector fits into the power adaptor in only one direction.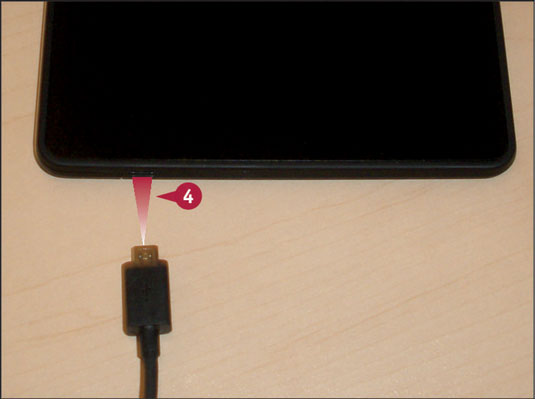 34
Plug the power adaptor into an electrical outlet.
Connect the opposite end of the USB cable to the Fire tablet.
The opposite end of the USB cable contains a micro-B USB connector that fits into the tablet in only one direction; the micro-B USB connector appears slanted when connected to your Fire tablet.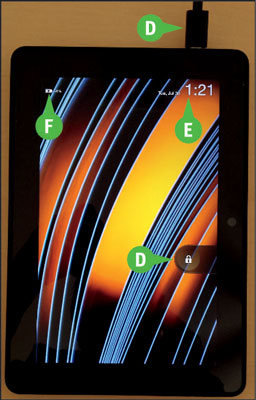 44
When the Fire tablet is properly connected to an electrical outlet, the lock screen appears. The date and time appear.
The battery indicator contains a lightning bolt to indicate the device is charging and shows the amount of charge the device currently has.
You can charge your Fire tablet using any USB cable that has a standard USB connector on one end and a micro-B USB connector on the other, but Amazon recommends that you use the USB cable that came with your device because using another USB cable could increase the charging time.
Also be aware that, whereas you can connect the standard USB cable to your computer and charge the tablet, charging from your computer also increases charging time.