How to Search for Apps from Your Kindle Fire HD
How to Search for Apps from Your Kindle Fire HD
You can have fun browsing through categories of apps on your Kindle Fire HD, but if you know which app you want to buy, using the Search feature can take you right to it.
To search for an app, follow these steps:
2

Using the onscreen keyboard, enter the name of an app, such as the game Angry Birds.

Suggestions appear beneath the Search field.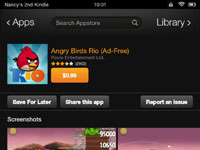 4

Tap an app name to see more details about it.

The Product Info screen appears. Read the description and scroll down to read customer reviews or explore other apps that customers who bought this app also bought.

The Save for Later button adds the app to your Saved for Later list. You access this list by tapping the Menu button on the Options bar, tapping More, and then tapping Saved for Later.

You can go to this list at any time to buy an item, or delete it from the list by pressing and holding your finger on it and then tapping Remove in the menu that appears.