How to Add an App to Favorites on Your Fire Tablet
How to Add an App to Favorites on Your Fire Tablet
For easy access, you can add apps and content, such as books, to the Favorites section of the Home screen on your Fire tablet. When you open an app, it appears in the Home screen Carousel, which is a convenient location from which to reopen the app; this also makes the Carousel a very crowded place.
As an alternative, you can add content to the Favorites section on the Home screen, thus making them just as easy to find and open but without all the clutter. You also can remove content from the Favorites section when you no longer need it.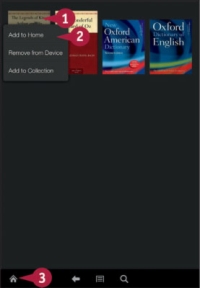 1

From the Home screen Carousel or from any content library, press and hold an item.

Tap Add to Home (2).
3

Swipe up to scroll down the screen (4).

The item you selected in step 1 appears in the Favorites section (A).

To remove an item from the Favorites section, tap and hold it until the item flickers. Then at the top of the screen, tap the Remove button.