Set Up VoiceOver on Your iPad in 6 Steps
Set Up VoiceOver on Your iPad in 6 Steps
If you are visually impaired, your iPad's VoiceOver reads the names of screen elements and settings to you. VoiceOver also changes the way you provide input to the iPad. In Notes, for example, you can have VoiceOver read the name of the Notes buttons to you, and when you enter notes, it reads words or characters you've entered. It can also tell you whether features such as Auto-Correction are on. To turn on this feature, tap the Settings icon on the Home screen. Tap General; then scroll down and tap Accessibility.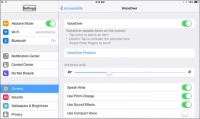 2

In the VoiceOver pane, tap the VoiceOver On/Off button.

When VoiceOver is on, you first tap to select an item such as a button, which causes VoiceOver to read the name of the item to you; then you double-tap the item to activate its function. (VoiceOver reminds you about this process if you turn on Speak Hints, which is helpful when you first use VoiceOver, but it soon becomes annoying.)
3

Tap the VoiceOver Practice button to select it and then double-tap the button to open VoiceOver Practice.

Double-tapping replaces the tapping action when VoiceOver is turned on. Practice using gestures such as pinching or flicking left, and VoiceOver tells you what action each gesture initiates. Tap the Done button and then double-tap it to return to the VoiceOver dialog.
4

Tap the Speak Hints field.

VoiceOver speaks the name of each tapped item. If you find this feature annoying, you can double-tap the On/Off slider to turn off Speak Hints.
5

Scroll down and tap and then double-tap Typing Feedback if you want VoiceOver to read words or characters to you (in the Notes app, for example).

In the Typing Feedback dialog, tap and then double-tap to select the option you prefer. The Words option causes VoiceOver to read words to you but not characters, such as the dollar sign ($). The Characters and Words option causes VoiceOver to read both, and so on.
6

Press the Home button to return to the Home screen.

This closes the VoiceOver feature and returns you to the Home screen.