Keyboard Shortcuts for Inserting Special Characters in iBooks Author
Keyboard Shortcuts for Inserting Special Characters in iBooks Author
Many books — especially the textbooks that Apple has suggested iBooks Author be used to create — use special characters, such as accented letters. You can add special characters to your text by using keyboard shortcuts. You can find these shortcuts visually by following these steps: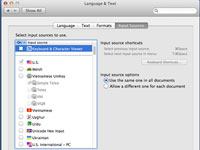 3

Open the Language & Text system preference's Input Sources pane.

The Mac's Help Center (which you can access by choosing Help from the Mac OS X menu bar in any application) lists the various ways to use special characters. Search for accents to get the related help topics.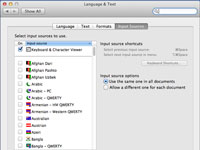 4

Select both the Keyboard & Character Viewer option and the Show Input Menu in Menu Bar option.

Mac OS X has a tool called the Character Viewer that lets you find and insert any of hundreds of such characters — called glyphs — available in your Mac's fonts. To open the Character Viewer, choose Edit→Special Characters.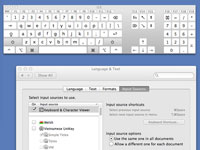 5

In the Mac OS X menu bar, click the icon menu that displays an asterisk (*) in a box, and then choose its Show Keyboard Viewer menu option.

An onscreen keyboard opens.
6

Hold down the Option key.

The Keyboard Viewer's display changes, showing all the characters you can get by pressing and holding Option when you click them. For example, the O key on the Keyboard Viewer changes to ø, indicating that pressing Option+O results in the ø character.
7

Hold down Option+Shift and click a letter to have the Keyboard Viewer display the characters available when you hold Option+Shift and press a letter. When done, click the Keyboard Viewer's Close box to close it.

For example, pressing Option+Shift+O gets you Ø.