How to Print Photos from Your iPad 2
How to Print Photos from Your iPad 2
If you have a wireless printer that's compatible with Apple AirPrint technology, you can print photos from your iPad 2. As of this writing, only a handful of HP printers have this capability, but you can bet Apple's working with other manufacturers to provide more choices.
If you don't have access to this kind of wireless printer, when you plug iPad into your Windows computer you can simply use Windows Explorer or Finder to open the DCIM folder on your iPad and copy and paste photos into your computer for printing.
To print a photo, open the camera app and do this: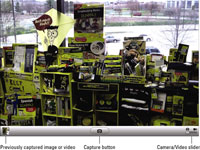 1

Maximize the photo you want to print.

Thumbnails of previously captured images appear at the bottom of the camera app.
4

Tap the plus or minus symbols in the Copy field.

This sets the number of copies to print.
5

Tap the Print button.

Your photo is on the way to the printer!