Get the News with the NPR App for iPad
Get the News with the NPR App for iPad
NPR (National Public Radio) for iPad offers you access to just about everything NPR produces, including written stories, radio news stories, and a broad selection of the entertainment and informational radio shows.
You can browse NPR's content in several ways. The home screen features three scrollable timelines, one each for News, Arts & Life, and Music. These three streams are all stories and articles produced by the NPR news organization — the different radio programs are offered separately. You can swipe through these three streams from left to right. When you tap a story that interests you, it takes over the screen, with the category stream at the bottom.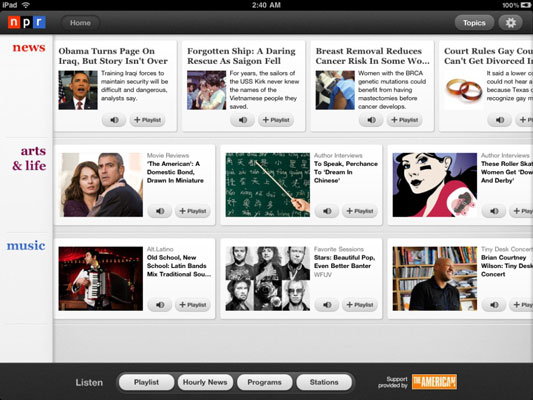 Some of these articles are offered up in text only, but most of them have an accompanying radio report embedded right there. You can listen to the audio report from the home screen by tapping the speaker button in the teaser or by tapping the Listen Now button in the full article. Better yet, you can queue up stories in a Playlist for later listening. It's a great way to make sure you're hearing all the articles you want to listen to.
NPR for iPad also offers up about twenty of its radio programs, such as All Things Considered, Fresh Air, Science Friday, and On the Media. If you tap the Programs button at the bottom of the screen, you get a pop-up window with each program listed. Tap a show and you get a list of current and recent episodes you can play or add to a Playlist. If it has a podcast version on iTunes, you'll find a button for getting it there, too.
Any show currently being aired somewhere in the world has an On Air label. You can tap into these shows live.