How to Zoom In and Out on iPad
How to Zoom In and Out on iPad
The Zoom feature on iPad 2 lets you zoom in (enlarge) the contents displayed on the iPad screen. After zooming in, you can quickly zoom out again when desired, to view text and images displayed on-screen in its normal size.
Once the Zoom feature is turned on, you simply double-tap the screen with three fingers to zoom in. Don't squint, change your glasses, or hold the iPad close just to be able to see — turn the Zoom feature on, and use it when needed to see what's on-screen.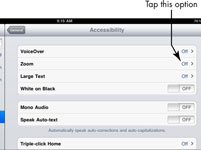 1

Tap the Settings icon on the Home screen and then tap General. In the General settings, tap Accessibility.

The Accessibility options appear.
2

Tap Zoom.

The Zoom options appear.
4

Tap the Home button.

The Settings dialog is closed.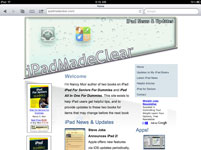 5

Zoom in and out as needed.

Go to a website and double-tap the screen using three fingers; it enlarges. Press three fingers on the screen and drag to move around it if you like. Double-tap with three fingers again to go back to regular magnification.

The Zoom feature works almost everywhere in iPad: in Photos, on web pages, in your Mail, in iPod and Video — give it a try!