For Seniors: View Location Information in iPad's Google Maps
For Seniors: View Location Information in iPad's Google Maps
iPad 2 includes the Google Maps app. Use it to lookup directions, addresses, phone numbers, and web pages for homes, businesses, and landmarks. Maps also allows you to quickly add the addresses and phone numbers it finds to your Contacts list for easier retrieval next time.
After you start Maps and search for an address, business, or destination, it appears on the map with a red pin.
1

Go to a location on the map and tap the pin.

An information bar appears above the pinned location.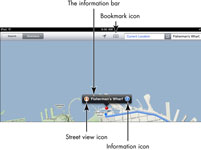 2

Tap the Information icon.

The Information dialog box appears. Here, you can find the location's address, phone number, and web address (if any).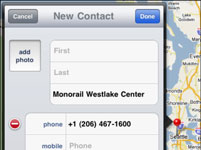 4

Tap Add to Contacts.

The New Contact dialog appears. The name, address, phone number, and web address of the location is entered for you; add additional information as needed.
5

Tap Done.

The information is stored in Contacts. If needed, tap outside the Information dialog in Maps to close it.

You can press and hold the Phone, Address, or Home Page field to copy it elsewhere, such as the Notes app, for future reference.