For Seniors: Search in a Book on iPad 2
For Seniors: Search in a Book on iPad 2
The iPad 2 is perfect for reading e-books (electronic books) in its iBooks app. Occasionally, you might want to search an e-book for a particular topic, sentence, or other reference, rather than jumping to a specific chapter using the Table of Contents, or a bookmark you've set.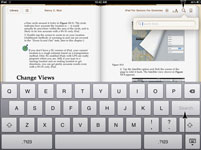 1

With the book you want to search displayed, tap the Search button.

The Search button looks like a magnifying glass. When you tap the Search button, the onscreen keyboard displays.
2

Enter a search term and then tap the Search key on the keyboard.

iBooks searches the entire book for any matching entries, and displays a list, along with the page numbers on which the matching entries appear.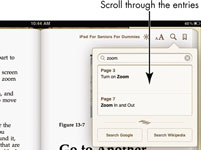 3

Use your finger to scroll down the entries, and tap the one you want to jump to.

The page containing the entry you selected is displayed.

You can also search for other instances of a particular word in a book by pressing your finger on the word and tapping Search on the toolbar that appears.

To search for the search term online, tap either the Search Google or Search Wikipedia button at the bottom of the Search dialog.