For Seniors: Play YouTube Videos on iPad 2
For Seniors: Play YouTube Videos on iPad 2
iPad 2 comes with a YouTube app that you can use to easily browse, subscribe, and play YouTube videos. Though you can visit YouTube and play videos using iPad's Safari browser, using the dedicated YouTube application that's preinstalled on iPad is easier. This app provides buttons you can tap to display different content and features using your touchscreen.
1

Tap the YouTube icon on the Home screen.

The YouTube app opens.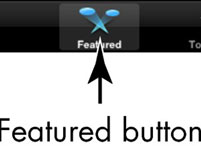 2

One way to find a video is to tap the Featured, Top Rated, or Most Viewed button at the bottom of the screen.

The videos in the selected category appear.
3

Another way to find a video is to tap in the Search field, type a search term, and tap the Search key on the keyboard.

A list of videos matching your search criteria appear.
4

Use your finger to scroll down the screen.

Additional results are displayed.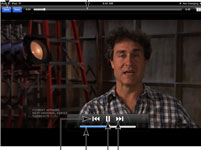 5

When you find a movie you like, tap it.

The video begins to play. Use the video controls that appear to control the playback. Tap the Pause button to pause the video; tap Play to restart the video. Drag the circular button on the Progress bar to jump forward or backward in the video. Adjust the volume by dragging the Volume slider.

If applicable, tap the Go to Previous Chapter button to return to a previous chapter in a video; tap the Go to Next Chapter button to move to the next chapter instead.

Use the Related tab in the playback window to find additional content related to the topic.

If you find a movie you like, tap the More From tab to display more videos posted on YouTube by the same source. Tap the Subscribe button that appears to subscribe to all movies from this source. View your subscriptions by tapping the Subscriptions button at the bottom of the YouTube screen.