Choose an iPad Calendar to View
Choose an iPad Calendar to View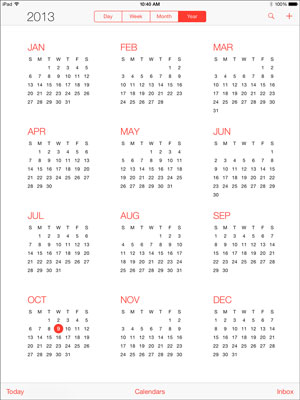 15
Year view
There's not much to the yearly view, but at a glance you can see the current calendar year with today's date (October 9) circled in red. You can scroll up or down to see prior or future years, but unfortunately, you can't tell on which days you have appointments in this view.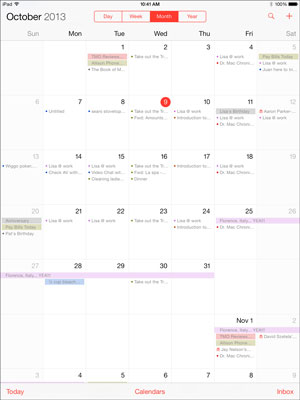 25
Month view
Tap any of the months visible in the yearly view to jump to that specific month. When your iPad is in Month view, you can see which days have appointments or scheduled events. Tap a day to see the list of activities on the agenda for that day.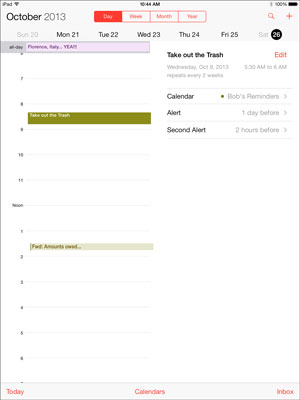 35
Day view
You have to tap a date to see what you have going on in a 24-hour period — though to see an entire day's worth of entries, you'll have to scroll up or down. You can swipe to the left to advance to the next day of the week and beyond; swipe to the right to retreat one or more days; or tap a day near the top of the screen to jump to it.
In this Day view, all-day events, birthdays, and events pulled from your Facebook account (if you provide your Facebook credentials) appear in a narrow strip above the timeline for the day, as shown for Florence, Italy.
Your daily appointments span the entire time in which they've been scheduled on your calendar. For example, if an appointment runs from 11:00 a.m. to 1:00 p.m., those two hours will be blocked off on the calendar.
You find out how to create calendar entries in a moment, but for now know that you can hold down on an event and drag it to a new time slot should your plans change. If you have overlapping appointments, you'll see more than a single entry claim a given time slot.
Calendars are color-coded according to the calendar in which you scheduled the appointment to help you distinguish an appointment you made on your travel calendar versus, say, a work, family, or Facebook calendar.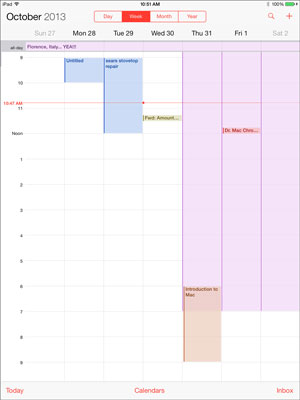 45
Week view
In this view, you can see an entire week at a glance. The current day is circled in red. You can arrange to start your weekly view on any day of the week. Tap Settings→Mail, Contacts, Calendars→Start Week On, and then tap the day on which you want to start your week (Sunday is the default in the United States.)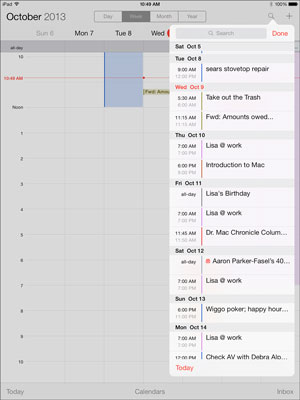 55
List view
List view isn't complicated. You can get to the List view by tapping the search (magnifying-glass) icon near the upper-right corner of the screen. As you would expect, all your calendar appointments are listed chronologically.
If you have a lengthy list, drag up or down with your finger or flick to rapidly scroll through your appointments. If you're looking for a specific calendar entry, you can search for appointments by typing the titles, invitee names, locations, or notes in the search box above your list of entries (or employ Spotlight to help you search).
Tap any of the listings to get meeting or appointment details for that entry. If you tap a person's birthday, you see his or her contact information. Sorry, but you just ran out of excuses for not sending a card at least.