How To Switch between Programs on a Windows Laptop
How To Switch between Programs on a Windows Laptop
These days, almost everyone is a multi-tasker on their Windows laptop. Windows 8.1 helps you with multi-tasking by allowing you to easily switch between programs and work in more than one program simultaneously. Just follow these simple steps:
1

Open two or more programs.

The last program that you open is the active program. However, it's easy enough to switch between programs.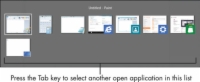 2

Press Alt+Tab to reveal all open programs and press Tab to cycle from one open application window to another.

In order to perform a function in a program, it has to be the active program. Make sure that they program you want is the active one.
3

Release the Alt key, and Windows 8 switches to whichever program is selected. To switch back to the last program that was active, simply press Alt+Tab, and that program becomes the active program once again.

All open programs also appear as items on the Windows 8.1 Desktop taskbar. Just click any running program on the taskbar to display that window and make it the active program. This is an alternative method to the Alt+Tab command. If the taskbar isn't visible, move your mouse towards the bottom of the Desktop to display it.