For Seniors: Send an Attachment in Windows Mail
For Seniors: Send an Attachment in Windows Mail
It's very convenient to be able to attach a document or image file to an e-mail that the recipient can open and view on his end. To do this, just follow these steps.
1

Open Mail and click your e-mail account.

Click New to create a new e-mail message, address it, and enter a subject.
2

Click the Attachments icon at the top of the page.

This icon is shaped like a paperclip.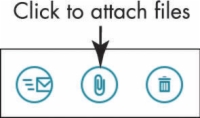 3

The This PC library appears. Locate the file or files that you want using the Go Up link if necessary.

Click to select the files.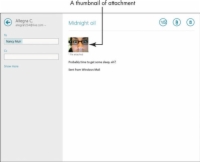 4

Click the Attach button. A thumbnail of the attached file appears in the message body indicating that it's uploaded.

If you have other attachments you want to make from other folders on your laptop, you can click the Attachments link again and repeat the previous steps as many times as you like to add more attachments.
5

Click the Send button to send the message and attachment.

If you change your mind about sending a message while you're creating it, just click the Close button (it's in the top-right corner with an X in it) and choose Save Draft or Delete.