How To Remove a Program From Your Laptop
How To Remove a Program From Your Laptop
If you don't need a program, removing it may help your laptop's performance, which can get bogged down when your hard drive is too cluttered. It's always a good idea to remove unneeded programs to keep your laptop working at its best.
1

From the Control Panel, click Uninstall a Program.

This is located under the Programs category.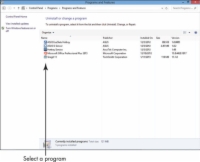 2

In the resulting Programs and Features window, click a program and then click the Uninstall (or sometimes this is labeled Uninstall/Change) button that appears.

Although some programs will display their own uninstall screen, in most cases, a confirmation dialog box appears.

3

If you're sure that you want to remove the program, click Yes in the confirmation dialog box.

A progress bar shows the status of the procedure; it disappears when the program has been removed.
4

Click the Close button to close the Program and Features window.

With some programs that include multiple applications, such as Microsoft Office, you get both an Uninstall and a Change option in Step 2. That's because you might want to remove only one program, not the whole shooting match. For example, you might decide that you have no earthly use for Access but need Excel and Word daily — so why not free up some hard drive space and send Access packing?

If you want to modify a program in this way, click the Change button rather than the Uninstall button in Step 2 of this task. The dialog box that appears allows you to select the programs that you want to install or uninstall or even open the original installation screen from your software program.

If you click the Change or Uninstall button, some programs will simply be removed with no further input from you. Be sure that you don't need a program before you remove it, that you have the original software on disc, or that you have a product key for software you downloaded from the Internet so you can reinstall it should you need it again.