For Seniors: Protect Against Viruses and Spyware
For Seniors: Protect Against Viruses and Spyware
The best way to protect your system against viruses and spyware (malware) is to install an antivirus program. Easily check your Windows laptop for an antivirus program, and if one is not installed, you can quickly select and install one.
It's very important that you install antivirus and antispyware software installed on your laptop — and that you run updates to them on a regular basis. These types of programs help you avoid downloading malware to your laptop that could bother you with advertising pop-ups, slow your laptop's performance, damage computer files, or even track your keystrokes as you type to steal your identity.
1

Choose Start→Control Panel→System and Security.

The System and Security window appears.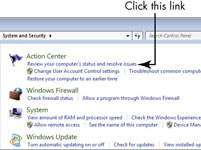 2

Click the Review Your Computer's Status and Resolve Issues link.

The Action Center window appears. Check to see if the Security item states whether Windows found any antivirus software on your laptop.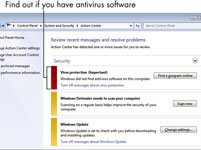 3

If Windows did not find such software, click the Find A Program Online button and review the Microsoft recommended security software partners.

If you want to purchase one of these software products, click the logo of the company you want to buy from, and you're taken to their site, where you can buy and download the software.

If you don't want to pay for an antispyware program, consider a free solution such as Spyware Terminator.