How to Make Text on Your Laptop Larger
How to Make Text on Your Laptop Larger
If you have problems with eyesight, you may want to consider changing the size of the display text on your laptop. You can change the size of items and/or text on the Desktop.
1

From the Control Panel, choose Appearance and Personalization.

In the resulting window under the Display options, click Make Text and Other Items Larger or Smaller.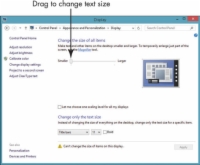 2

In the resulting Display window, under the Change the Size of All Items heading, click and drag the slider to set the size of text you prefer.

Smaller is the default, but you can expand text size to 125 percent with the Medium setting and 200 percent using the Larger setting.
3

If you only want to change the size of text on your screen, in the Change Only the Text Size section, click the box on the left to choose where the text size should be changed (for example Title Bars, Menus, or Tooltips).

Use the Font Size drop-down menu to choose the size your prefer.