For Seniors: Delete Temporary Internet Files in Internet Explorer
For Seniors: Delete Temporary Internet Files in Internet Explorer
Internet Explorer sometimes saves temporary files to your laptop to allow you to access certain sites or services. These temporary files, however, may bog down your browsing experience, so you may want to delete them from time to time.
1

Open Internet Explorer and choose Tools→Internet Options.

The Internet Options dialog box appears.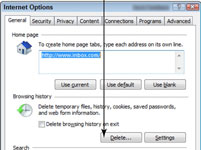 2

On the General tab, click the Delete button in the Browsing History section.

The Delete Browsing History dialog box appears.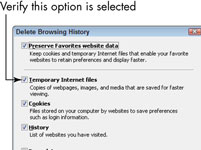 3

Click the Temporary Internet Files check box to select it and click Delete.

A confirmation message asks whether you want to delete the files.
4

Click Yes to delete the files.

Click Close and then click OK to close the open dialog boxes.

Temporary Internet files can be deleted when you run Disk Cleanup, but the process described here allows you to delete them without having to make choices about deleting other files on your system.

Windows 7 offers a feature for rating and improving your laptop's performance. From the Control Panel, click System and Security, and then click the Check the Windows Experience Index Base Score link. In the resulting dialog box, click the Rate This Computer button to get a rating of your processor speed, memory operations, and more.