How To Choose a Windows 8.1 Theme for Your Laptop
How To Choose a Windows 8.1 Theme for Your Laptop
If you don't want to take the time to customize a background, you may want to consider using one of Windows 8.1 themes. Windows 8.1 themes apply several color and image settings at once.
1
Right-click the Desktop and choose Personalize.
The Personalization window opens.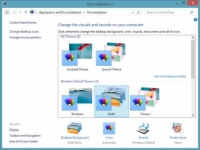 2

In the resulting Personalization window,, click to select a theme. Theme categories include the following:

My Themes: Uses whatever settings you have and saves them with that name.

Windows Default Themes: Offers you the default Windows theme and themes related to Nature, Landscapes, Light Auras, and your country of residence.
3

Click the Close button to close the dialog box.

Themes save sets of elements that include menu appearance, background colors or patterns, screen savers, and even mouse cursors and sounds. If you modify any of these individually — for example, by changing the screen saver to another one — that change overrides the setting in the theme you last applied.

You can save custom themes. Simply apply a theme, make any changes to it using the various Appearance and Personalization settings options, and then in the Personalization dialog box, right-click the Unsaved Theme and then select Save Theme from the menu that appears. In the resulting dialog box, give your new theme a name and click Save. It will now appear on the my Themes list with that name.