For Seniors: Change Your User Account Picture
For Seniors: Change Your User Account Picture
Windows 8.1 allows you to assign a unique picture to each user account you create. When you perform these steps, you should be logged in as the user for whom you want to change the account picture.
1

Press Win+I and then click the Change PC Settings link.

A window will appear with options.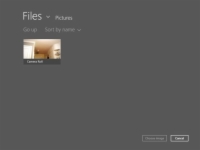 3

You can click the Browse button and choose a picture from the files that appear; click the Go Up link to explore other folders on your computer.

Click the picture and then click the Choose Image button to apply it to the active account.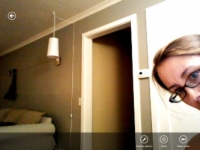 4

As an alternative, you can click the Camera button and, in the Camera app that opens, snap a picture of a person or object near your computer's webcam (a built-in camera device).

Click the screen to take the picture, and then click the OK button to apply it to the active account.

Many computers allow you to switch between a front- and a rear-facing camera to give you more options for taking pictures of objects around you. While in the Camera app, just click the Change Camera button to do this, if your computer has two cameras.