For Seniors: Ask Other Windows Users for Help
For Seniors: Ask Other Windows Users for Help
If you want to see how other Windows users have solved a problem, you can visit the Windows Forum and read posted messages and the solutions suggested by Microsoft and others. You can also post your own questions.
1

Begin typing help on the Start screen and then click Help and Support to open the Windows Help and Support window.

Click the Microsoft Community website link.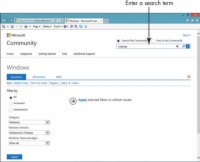 2

On the web page, click in the Search field and enter a search term.

Click the Search button to search for all answers.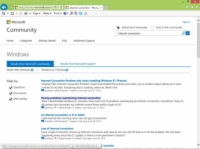 3

Click the title of a question that relates to your question and read the answers.

You may or may not find the answer to your question without going any further.
4

To ask your own question, click the Post to the Community radio button above the Search field.

Enter a question and then press Enter.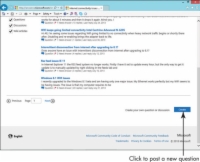 5

On the following page, scroll through to see if somebody else has posted a similar question; if not, click the Create button at the bottom of the page and enter a more detailed description of your problem or question.

You may have to sign up if you haven't used this site before, accepting the rules of conduct.
6

Change the title for your question if you wish. Click the Category field to choose an appropriate forum (the appropriate area of the Community for your question), the Windows Version field to choose Windows 8.1, and the Windows Topic and Apps field.

Choose the appropriate topic for your question from the drop-down list.
7

If you want to get an e-mail when somebody responds to your question, be sure the Notify Me When Someone Responds to This Post check box is selected.

If this isn't selected, you'll have to return to the forum and check to see if any answers have been posted.
8

Click the Submit button.

It's a good idea to roam around the forum for a bit before you post a question to see if it's been addressed before. If you post a question that's been answered several times before, you not only waste your time and the time of others, but you may find yourself the recipient of a bit of razzing by regulars to the forum.