For Seniors: Add Files to SkyDrive
For Seniors: Add Files to SkyDrive
You can easily add files to SkyDrive at any time to back them up or share them with others. SkyDrive is a great place to keep things to free up some space on your laptop or to use as a backup in case your laptop breaks.
1

Click the SkyDrive tile on the Start screen.

This allows you to access SkyDrive.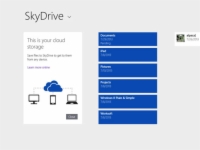 2

Click a folder, such as Documents.

In the list of sub-folders and files that appears, click a folder or file and it opens.
3

Right-click the screen, then click the Add Items button in the toolbar.

You should see folders.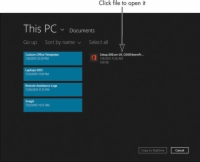 4

Locate the folder where the file you want to upload is placed.

If you don't see the file you need, scroll down in the list of folders on the left, click the Go Up button, or click the down-arrow to the right of the SkyDrive header; more folders are displayed.
5

Click a file. Click Open.

You may want to delete a file from SkyDrive, as the free storage is limited to 7 gigabytes (GB). First, find the file in SkyDrive that you want to delete, and right-click it. Click Delete. In the pop-up menu that appears, click Delete.