Set Up Existing Gmail Accounts on the Galaxy S6
Set Up Existing Gmail Accounts on the Galaxy S6
If you already have a Gmail account, setting it up on your Samsung Galaxy S6 is easy as can be. Follow these steps from the Apps menu: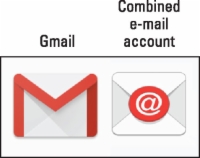 1

Find the Gmail icon in the Apps list.

Here is a confusing part. The icon on the left is the Gmail app. The icon on the right is for the general e-mail app. The general e-mail app is for your combined e-mail accounts. The general e-mail account is the app that you will use to access any and all of your e-mail accounts.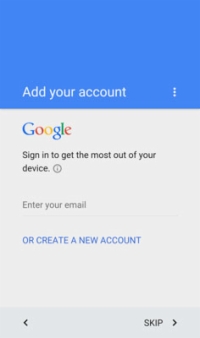 2

Tap the Gmail icon.

Because your phone does not know if you have a Gmail account yet, it offers you the option of entering your Gmail account or creating a new account.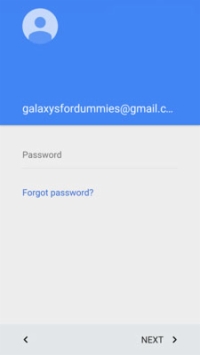 3

Enter your Gmail account e-mail address.

Be sure to include the "@gmail.com" suffix. Tapping Next brings up the screen shown.
4

Enter your existing Gmail password.

Go ahead and type your password. When you're ready, tap Next on the keyboard.

You may get a pop-up re-confirming that you agree with the terms of use and all that legal stuff. Tap OK. You'll see lots of flashing lights and whirling circles while your phone and your Gmail account get to know each other.

If everything is correct, your phone and your account get acquainted and become best friends. After a few minutes, they are ready to serve your needs. There are even a few screens that tell you all the things that your Gmail account will do for you.

If you have a problem, you probably mistyped something. Try retyping your information. From this point on, any e-mail you get in your Gmail account will also appear on your phone!