Send an Office File from Your Galaxy S 4
Send an Office File from Your Galaxy S 4
After an Office file is saved on your Galaxy S 4, it's safe to send it to your home PC or to another PC. When you're ready to e-mail the document to your PC or another PC, do the following: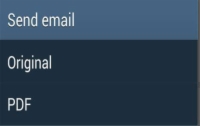 2

Tap the Send E-Mail link.

You have several choices from the resulting pop-up screen, as shown in this figure. You can send it as a PDF, but then you cannot edit it any more. Of course, if that is what you want, send it as a PDF by tapping that choice. Otherwise, tap Original.
3

Choose the E-mail option you want to use to send the file.

Your choices are Original and PDF.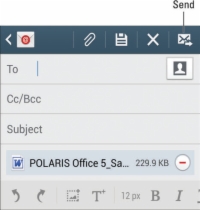 4

Type in the contact or e-mail address.

This brings up a blank e-mail screen with your document automatically included as an attachment. This screen is shown here.
5

Populate the To text box with an e-mail address and add a subject and a message if you wish.

You can use an e-mail address from your contact list.
6

Tap Send.

The miracle of wireless communication zips the document off to the intended recipient.

If you want the document on your PC, simply address it to yourself.

The process is the same for a Word-, Excel-, and PowerPoint-formatted document.

The formatting of the document on your phone might not be exactly the same as it is when it reappears on your PC. Save yourself time and don't try to format a document on your Galaxy S 4 phone.