Rating or Uninstalling Galaxy S7 Apps
Rating or Uninstalling Galaxy S7 Apps
14
Open the Play Store.
The figure shows the layout of the Play Store Home page.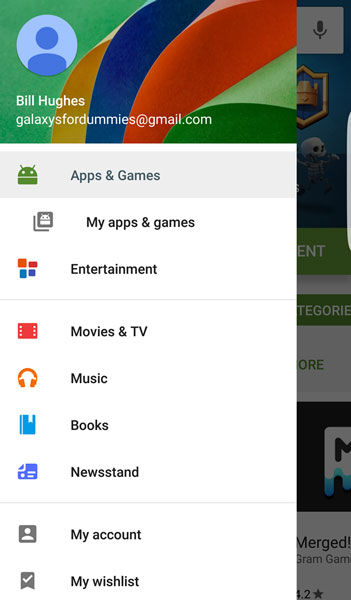 24
Tap the Menu button (the three parallel lines in the Google Play banner).
Doing so brings up a drop-down menu like the one shown.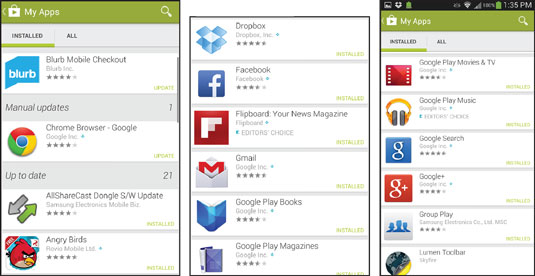 34
Tap the link that says My apps & games.
This tap brings up the screen shown, which lists all the apps on your phone. Keep on scrolling down. You'll eventually see them all.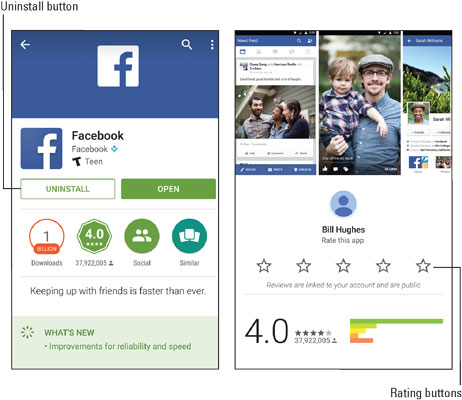 44
Tap on one of these apps to rate or uninstall them.
If you love the app, rate it highly on a five star scale. To be clear, to rank it as one star, tap the leftmost star. To rank it highly with five stars, tap the rightmost star.
Whatever number of stars you pick will bring up a pop-up with those number of stars. You can then tell all the world just what you think of the app. While many app developers read the comments, it takes longer for some.
On the other hand, if you hate the app, give it one star and blast away. It does not happen often, but there are some major league loser apps out there. In most cases, it occurs when you have an older phone, and the apps you have assume some capabilities that are not there.
This will not happen for a long, long time with the Galaxy S7, but technology does march on. Someday in the future, your wonderful phone will be a relic, and some new apps will assume that your S7 can be operated through thought control/mind reading. Alas, your S7 phone does not have that feature (as far as you know). The new app will not seem to work right.
Go ahead and give that app one star and then tap the Uninstall button. Poof. It is gone.