How to Set Up a Corporate E-Mail Account on Your Samsung Galaxy S 4
How to Set Up a Corporate E-Mail Account on Your Samsung Galaxy S 4
In addition to personal e-mail accounts, you can add your work e-mail to your Galaxy S 4— if it's based upon a Microsoft Exchange server, that is, and if it's okay with your company's IT department.
Before you get started, you need some information from the IT department of your company: the domain name of the office e-mail server, your work e-mail password, and the name of your exchange server.
If the folks in IT are okay with you using your phone to access its e-mail service, your IT department will have no trouble supplying you with this information.
Before you set up your work e-mail on your phone, make sure that you have permission. If you do this without the green light from your company, and you end up violating your company's rules, you could be in hot water. Increasing your productivity won't be much help if you're standing out in the parking lot holding all the contents of your office in a cardboard box.
Assuming that your company wants you to be more productive with no extra cost to the company, the process for adding your work e-mail starts at your e-mail Home screen.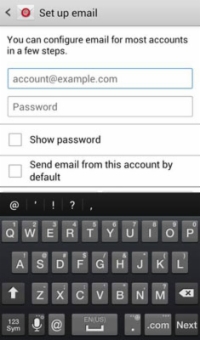 2

Tap the Others icon.

This is a generic way to enter lots of kinds of e-mail accounts. Tapping it brings up this screen.
3

Carefully enter your full e-mail account name, and then enter your password in the second field.

Your e-mail address should include the full shebang, including the @ sign and everything that follows it. Make sure to enter your password correctly, being careful with capitalization if your e-mail server is case-sensitive — most are. If in doubt, select the option to let you see your password.
4

Decide whether you want this account to be your default e-mail account.

After you add multiple accounts to your phone, only one account can be your primary, or default, account. Although you can send an e-mail from any of the accounts registered on your phone, you have to select one as the default. If you want this account to be the primary account, select the Send Email from This Account by Default check box. If not, leave that option as it is.
5

Tap Manual Setup. Then, tap Exchange Account.

Some of the fields might be populated based upon the information that you already entered.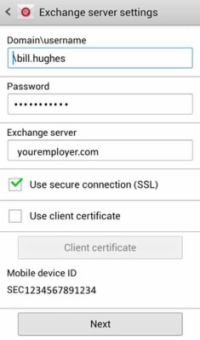 6

Verify that information and enter any missing data according to what your IT department provided you.

It's a good idea to have this information handy prior to set up.
7

Tap Next.

This begins syncing with your work e-mail. Within a minute, you should start seeing your work e-mail messages appearing. If this doesn't happen, contact the IT department at your employer.