How to Buy Books from the Google Play Store on Your Samsung Galaxy
How to Buy Books from the Google Play Store on Your Samsung Galaxy
The iPhone has iTunes, and the Kindle Fire has Amazon. These days every device, is associated with an online store. Your Samsung Galaxy S 5, being an Android device, connects you to the Google Play Store, a great place to buy books, movies, music, apps, or games for your S 5.
Here's how to buy For Dummies books from the Google Play Store: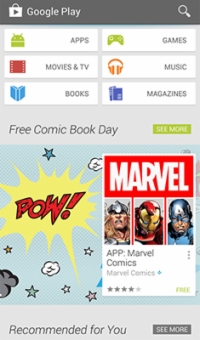 2

From the Play Store Home screen, tap Books.

The Play Store Home screen makes lots of suggestions.

You want to find more For Dummies books.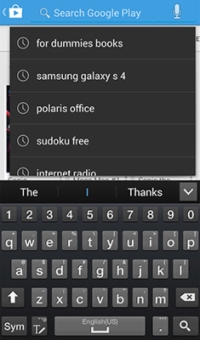 3

Tap the magnifying glass icon in the upper right corner.

The magnifying glass (shown previous figure) brings up this screen.

You can type in the words For Dummies. You can also tap the microphone and say "for dummies."

If you know which For Dummies book you want, you can also say the complete name, such as Samsung Galaxy S 5 For Dummies.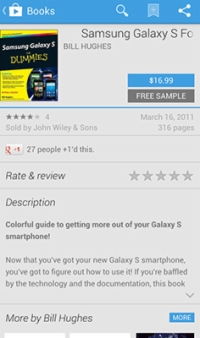 5

Click the thumbnail of the book you want to select.

Feel free to browse! (Please note that the choice shown in the following figure is for the earlier versions of the Galaxy S line!)
6

When you are ready to purchase, tap the blue box with the price.

If you have a credit card on file with Google through your Gmail account, it verifies that you want to buy.
7

Tap Buy.

The book is on the way to the address you have saved! (And thank you for your purchase!)