Galaxy S 4: Update Facebook with S-Voice
Galaxy S 4: Update Facebook with S-Voice
Of course, nothing really happens in today's world unless it exists on Facebook. S-Voice on your Galaxy S 4 gives you the tools to update your status without going to the trouble of using your keyboard.
Although you may have already have Facebook on your phone, you still need to introduce S-Voice to your Facebook account. Here's what you do:
1

From the S-Voice screen, tap the Menu button.

This brings up a pop-up menu with the Settings and Driving mode.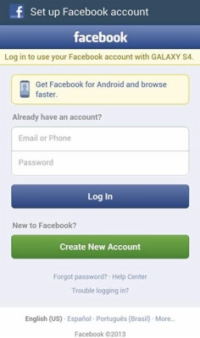 3

Tap on the Log In to Facebook link.

If you have not already done so, you need to log into the Facebook app. This brings up the screen in shown here.
4

Enter your Facebook user ID and password.

Ironically, you need to type in this information in the appropriate boxes. S-Voice won't do it for you.
5

Tap Log In.

This installs the app you need on your phone to do this.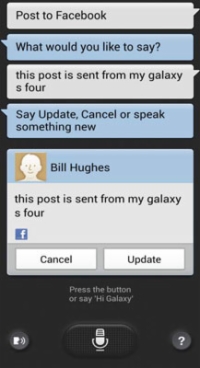 6

Tap Allow All.

This gives permission for S-Voice to post on your behalf. (Sheesh. Lawyers.)

Now you are ready to post on your Facebook. To do so, say "Post on Facebook." This brings up the screen shown.

At this point, it is just like a typical post on Facebook. You share your status and wait for your friends to Like it or comment.