Senior iPhone 4S Users Can Download iTunes to Macs or PCs
Senior iPhone 4S Users Can Download iTunes to Macs or PCs
For Windows users, you should download the iTunes application to your computer so that you have the option of using it to sync (transfer) downloaded content to your iPhone. If you're using a Mac, you already have iTunes installed but to be sure you have the latest version click iTunes, and choose Check for Updates.
1

Go to Apple using your computer's browser.

Click the iTunes Free Download link.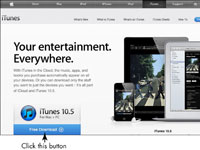 2

On the screen that opens, click the Download Now button.

A dialog appears unless you are using the Internet Explorer 9 download bar.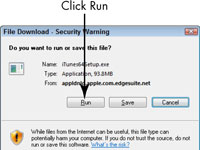 3

In the dialog that appears, or using the Internet Explorer 9 download bar, click Run.

The iTunes application downloads. When the download is complete, another dialog appears, asking whether you want to run the software.
5

Click Next. Click the I Accept the Terms of the License Agreement check box in the following dialog and click Next.

Review the installation options and click to deselect the ones you don't want to use.
7

When a dialog appears and tells you that the installation is complete, click Finish.

You have to restart your computer for the configuration settings that were made during the installation to take effect.