How to Use Your iPhone to Find Apps
How to Use Your iPhone to Find Apps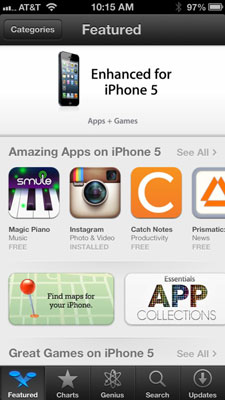 14
Tap the App Store icon on your iPhone's Home screen.
After you launch the App Store, you see five icons at the bottom of the screen, representing five ways to interact with the store.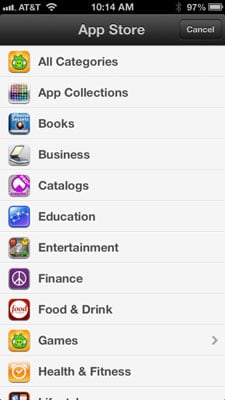 24
Use the Categories button to find exactly what you want.
Know exactly what you're looking for? Instead of simply browsing, you can tap the Search icon and type a word or phrase.
Or use the Categories button, which appears at the top of the Featured and Charts sections, which works a little differently because it has no apps. Instead, it offers a list of categories such as Games, Newsstand, Entertainment, Utilities, and Social Networking, to name a few.
Tap a category to see either a page full of apps of that type or a list of subcategories for that type. For example, the Games category offers subcategories such as Action, Arcade, Kids, Music, and Puzzle. Other categories have no subcategories — you'll go directly to the page full of apps when you tap them.
To make your browsing easier, each category or subcategory page has four sections — New, What's Hot, Paid, and Free.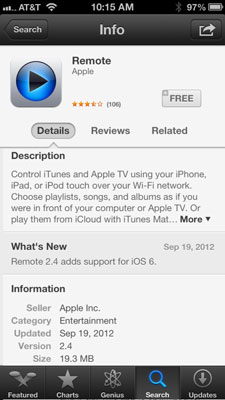 34
Check out the detail screen from your iPhone.
To find out more about any app on any page, tap the app. You see a detail screen like the one shown. Remember that the app description on this screen was written by the developer and may be somewhat biased.
Tap the Reviews button (between Details and Related in the figure) to see the star ratings and reviews for that app. At the bottom of that page is another button: More Reviews. Tap it to see (what else?) more reviews.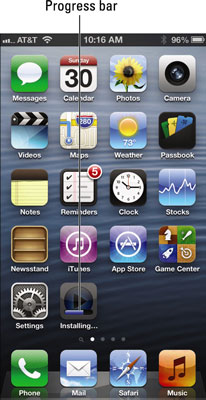 44
Download an app with your iPhone.
To download an app to your iPhone, tap the price button near the top of its detail screen. The price button is the gray rectangle that says Free. You may or may not be asked to type your iTunes Store account password before the App Store disappears and the Home screen, where the new app's icon will reside, appears in its place.
The new icon is slightly dimmed, and appears with a blue progress indicator and the word Loading or Installing.
The app is now on your iPhone, but it isn't copied to your iTunes library on your Mac or PC until your next sync — unless, of course, you've turned on Automatic Downloads. If your iPhone suddenly loses its memory (unlikely) or you delete the app from your iPhone before you sync, that app is gone forever. That's the bad news.