How to Shoot and Edit Video on Your iPhone 5
How to Shoot and Edit Video on Your iPhone 5
The 3GS was the first iPhone to let you shoot video. Then the iPhone 4 joined the video party. More recently, the iPhone 4S and the iPhone 5 took the device to new heights.
Both the 4S and 5 produce high-definition video at what techies refer to as 1,080p. The iPhone 5's front-facing camera plays in the high-def league, too, but at the lower 720p video resolution standard. The front camera on the 4S does not do high-def. And neither do either of the cameras on the iPhone 4.
Moreover, the iPhone 5 made further improvements to the video stabilization feature introduced in the 4S. And through a process known as temporal noise reduction, you can shoot terrific video even in dim light.
Here's how to shoot and edit video on these latest phone models. Note that you can capture video in portrait or landscape mode: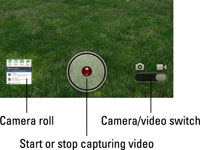 1

Tap the Camera icon on the Home screen.

Drag the little on-screen button at the bottom-right corner of the display from the camera position to the video camera position.
2

Tap the big round button with the smaller red circle at the bottom center to begin shooting a scene.

The red circle blinks and you see a counter timing the length of your video at the bottom left if you hold the phone in portrait mode or bottom right in landscape.
3

When you're finished, tap the red circle again to stop recording.

Your video is automatically saved to your camera roll, alongside any other saved videos and still pictures.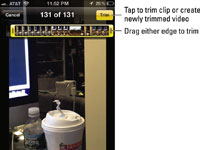 4

To edit the video you shot, tap a video recording to display the on-screen controls.

Drag the start and end points along the timeline to select only the video you want to keep.

Hold your finger over the section to expand the timeline to make it easier to apply your edits. You can tap the play button to preview the edit.
5

Tap Trim. Decide what to do with your trimmed clip.

You can tap Trim Original to permanently remove scenes from the original clip. Or tap Save as New Clip to create a newly trimmed video clip; the original video is unaffected and the new clip is stored in the Camera Roll. Or tap Cancel to start over.