For Seniors: How to Activate Siri on Your iPhone 6
For Seniors: How to Activate Siri on Your iPhone 6
When you first go through the process of registering your new iPhone, making settings for your location, using iCloud, and so on, at one point you will see this screen.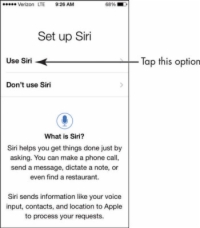 1

To activate Siri at this point, just tap Use Siri. As you begin to use your phone, iPhone reminds you about using Siri by displaying a message.

If you didn't activate Siri during the registration process, you can use Settings to turn Siri on by following these steps:
2

Tap the Settings icon on the Home screen.

You will see your settings options.
5

If you wish to change the language Siri uses, tap Language.

Choose a different language in the list that appears.
6

To change the gender of Siri's voice from female to male, tap Voice Gender.

Then tap Male.
7

If you want to be able to activate Siri Hands-Free (a new feature in iOS 8), tap the Voice Activation switch to turn on the feature.

With your iPhone plugged into an outlet, car, or computer, just say "Hey, Siri" and Siri opens up, ready for a command. In addition, with streaming voice recognition, Siri displays in text what it's hearing as you speak, so you can verify that it has understood you instantly. This streaming feature makes the whole process of interacting with Siri faster.
8

If you want Siri to verbally respond to your requests only when the iPhone isn't in your hands, tap Voice Feedback and choose Handsfree Only.

Here's how this setting works and why you might want to use it: In general, if you're holding your iPhone, you can read responses on the screen, so you might choose not to have your phone talk to you out loud. But, there may be times when you're hands are occupied and, in those situations, it might be good to have Siri read to you.

Siri is available only on iPhone 4s and later with Internet access, and cellular data charges could apply when Siri checks online sources. In addition, Apple warns that available features may vary by area.