How to Sync Your Droid X with Your Computer Using doubleTwist
How to Sync Your Droid X with Your Computer Using doubleTwist
To move information from your Droid X phone into a computer — and vice versa — you can use the free third-party utility doubleTwist. doubleTwist isn't an Android app: You use it on your computer. It lets you easily synchronize picture, music, videos, and Web page subscriptions between your computer and its media libraries, and any portable device, such as the Droid X. Additionally, doubleTwist gives you the ability to search the Android Market and obtain new apps for your phone.
After you download and install doubleTwist to your computer, follow these steps to sync your Droid X:
1

Plug a USB cable into one of the computer's USB ports, and then plug the other end of the cable into the Droid.

If the phone is turned on, an alert may sound. If you can see the screen, you see an alert notification: USB Connected.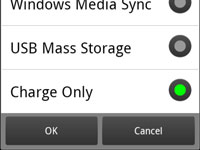 2

Pull down the notifications on your Droid and choose USB Connection.

You see four methods for using the USB connection to your computer. You can use any of the first three options — PC Mode, Windows Media Sync, and USB Mass Storage — for sharing and synchronizing between the Droid X and your computer. Each one is subtly different. For example, Windows Media Sync simply tells the computer that the Droid X is a media device, which lets you more easily share music, photos, and videos.
3

Select an option and touch the OK button.

The phone's main storage device, the MicroSD card, is mounted on your computer's storage system.
4

In Windows, open the Computer window.

On a Macintosh, open the new drive icon that appears on the desktop.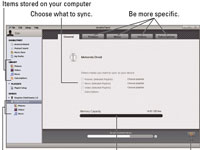 5

If necessary, start doubleTwist manually.

The doubleTwist program often starts automatically as soon as you connect the Droid X.
6

Ensure that the Motorola Droid X is chosen.

It appears in the list of media storage locations on the left side of the window.
7

Select all items on the General tab, and then click the Sync button.

All your music, photos, and videos are then synchronized between the phone and your PC. Alternatively, if you have a lot of photos or videos or music on the computer, click each tab and choose the music, pictures, videos, and subscriptions you want to synchronize between the phone and the computer. Then click the Sync button to transfer the information.