How to Make a Conference Call on Your Droid X
How to Make a Conference Call on Your Droid X
Your Droid X allows you to make a conference call if you need to talk to multiple people at the same time. To make a conference call on your Droid, you make one call, and then you add a second call. Touch a button on the Droid X touchscreen, and then everyone is talking.
1

Phone the first person.

You can input his or her number, select that number from your Contacts list, or even use speed dial if you have it set up.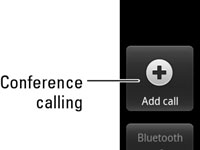 2

After your phone connects and you complete a few pleasantries, touch the Add Call button.

The first person is put on hold, and you see the dialpad.
3

Dial the second person.

Or you can summon the number from the Contacts list. Say your pleasantries and inform the party that the call is about to be merged.
4

Touch the Merge Calls button.

The two calls are now joined. Everyone you've dialed can talk to and hear each other.
5

If your cell provider allows, you can connect to more than two callers for a conference call by repeating Steps 2 through 4 to connect the third person.

You will also need to repeat Step 7 to disconnect each caller.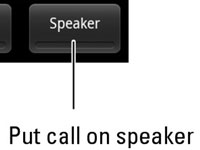 6

When several people are in a room and want to participate in a call, touch the Speaker button.

This step puts the phone in Speaker mode.
7

To end the conference call, disconnect the last person you called: Touch the End Last Call button.

The second person you dialed is disconnected; the call ends. You're still taking to the first person.