How to Customize the Encoder Settings in iTunes
How to Customize the Encoder Settings in iTunes
You can change iTunes' encoder settings, quality settings, and other importing preferences before ripping an audio CD or converting a file to get just want you want in terms of size and quality.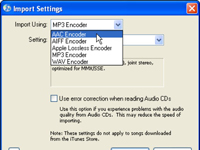 1

Choose iTunes→Preferences→General (Mac) or Edit→Preferences→General (Windows), and then click the Import Settings button.

The Import Settings dialog box appears, allowing you to make changes to the encoding format and its settings.
2

From the Import Using pop-up menu, select the encoding format that you want to convert the song into.

The Setting pop-up menu changes, based on your choice of encoder from the Import Using pop-up menu.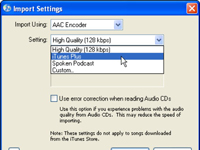 3

In the Setting pop-up menu, specify which setting you want to use.

In this figure, the AAC Encoder is selected, and the Setting pop-up menu is open.
4

Click OK in the Import Settings dialog box, then click OK in the General dialog box.

After changing your importing preferences — and until you change them again —iTunes uses these preferences whenever it imports or converts songs.

AAC, MP3, AIFF, and WAV encoders let you customize the settings. The Apple Lossless encoder is automatic and offers no custom settings.