How to Reinstall Windows 7 on Your Computer from a System Image
How to Reinstall Windows 7 on Your Computer from a System Image

112
Connect your portable hard drive, if you have one, to your computer.
No portable hard drive? You can still save your system image to either a second internal drive in your PC, a few DVDs, or to a network location. Those areas aren't perfect backup locations, but they're better than nothing.

212
Click the Start button, choose Control Panel, and choose Backup Your Computer from the System and Security section; then choose Create a System Image from the left pane.
The Create a System Image dialog box appears.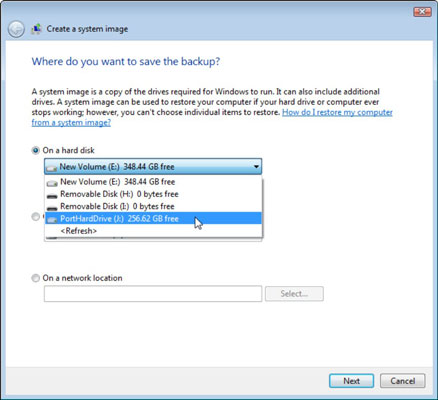 312
Choose where you want to save the system image file: a hard drive, a handful of blank DVDs, or on a network location.
For example, to choose your portable hard drive, click the On a Hard Disk drop-down menu, choose your portable hard drive, and click Next.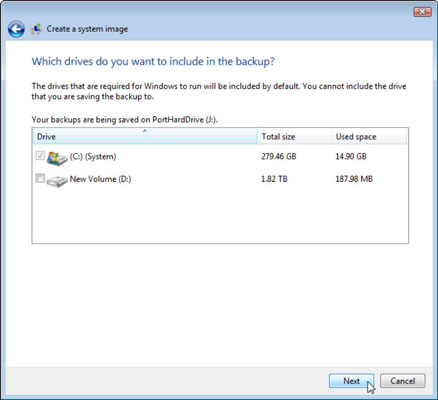 412
Click Next in the following window, which confirms that you're creating a system image of your (C:) (System) drive — the home of Windows, your programs, and your files.
Another window appears. Click Start Backup to start copying the system image to the drive. Depending on your drive's speed, the backup consumes roughly an hour for each 200GB of files, but you can continue working while backing up.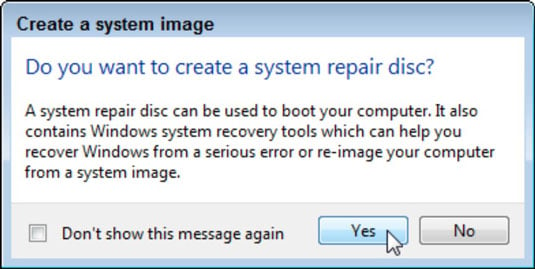 512
When the backup finishes, take Windows up on its offer to create a system repair disc by inserting a blank CD or DVD into your CD/DVD burner, clicking Yes in the dialog box, and following the onscreen instructions.
Now, you can make your desktop computer or laptop wake up with that system image in place and ready to work.

612
Unplug your USB drive from your computer and turn it off, then replug in the portable USB drive.
Or, if you saved the system image to DVDs or a network location, skip to the next step.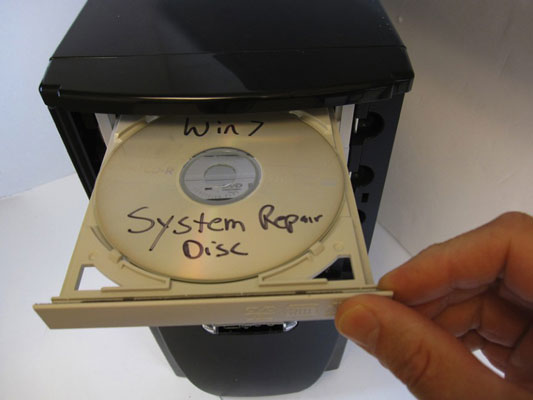 712
Turn on your computer and quickly insert the system repair disc you made. When your computer asks, press any key to tell the computer to load from the system repair disc.
You'll see a message that Windows is loading files.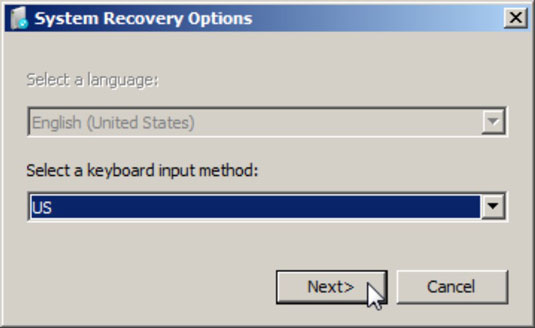 812
When the System Recovery Options window appears, click Next.
This step chooses "US" as your keyboard layout. If you're not in the United States, choose a keyboard layout in a different language from the drop-down menu.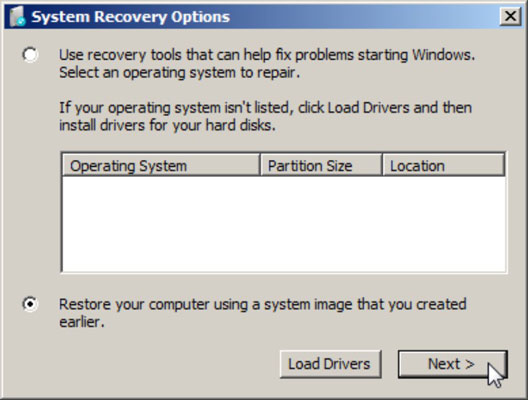 912
Choose Restore Your Computer Using a System Image That You Created Earlier, and click Next.
The Re-Image Your Computer window automatically finds the system image on your portable hard drive, listing the date and time it was made.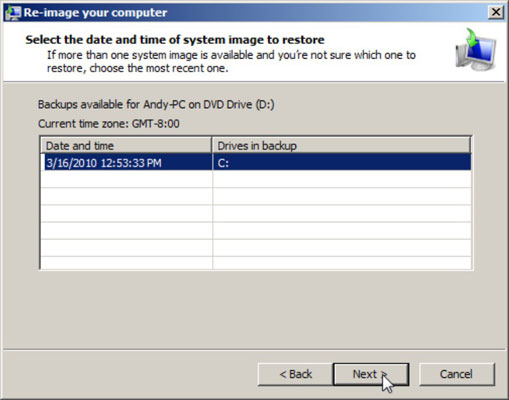 1012
Click Next to reinstall that image onto your new drive.
Saved your system image on DVDs? Then when the program says it can't find a system image, eject the system repair disc from your disc drive. Insert the first DVD of your system image, and click Retry. The program will then find your system image on the DVD.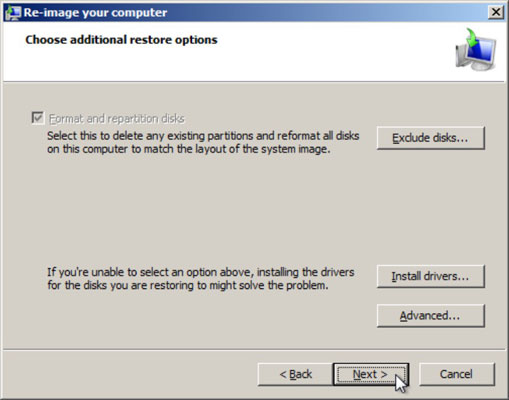 1112
Click the Format and Repartition Disks option, if asked, and click Next.
This step tells the program to prepare your newly installed hard drive to receive the system image, install it, and make your computer wake up in the same state it was when you created the system image.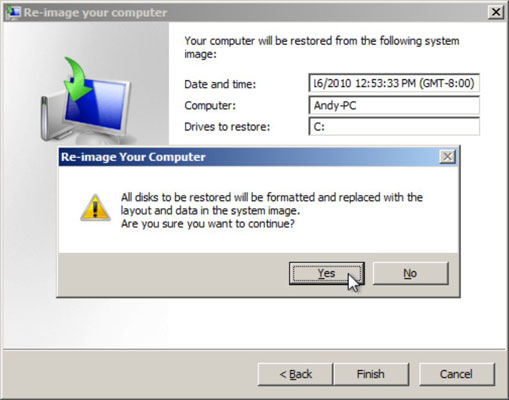 1212
Click Finish to approve the date and time of the system image you'll be restoring, then click a final Yes for approval, if necessary, and Windows goes to work.
It partitions and reformats your newly installed hard drive to the same size as your system image. Then it fills that space with the system image, returning your computer to the way it was when you first created that system image.