How to Free Space on Your Hard Drive
How to Free Space on Your Hard Drive
You should free space on your hard drive to keep your PC running well. You need to free space on your hard drive more often with Vista than with earlier versions of Windows.
If you start getting warnings that your hard drive space is running low, follow these steps: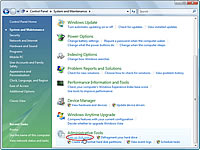 1

Click the Start button and choose the Control Panel's System and Maintenance category. Then choose Free Up Disk Space from the Administrative Tools section.

Vista asks whether it should clean your files, or every user's files.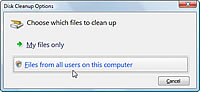 2

Choose Files from All Users on This Computer.

This step empties the Recycle Bin and cleans up trash from every user account on your PC.

If your PC asks you which drive you want to clean, choose the first one listed, the C: drive, and click OK.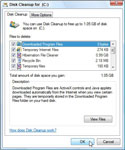 3

Select all the items and then click OK.

Vista presents the Disk Cleanup window. Select all the check boxes and then click OK. As you select a check box, the Description section explains what's being deleted.