Fortnite Game Options and Modes
Fortnite Game Options and Modes
Save the World, Battle Royale, and Creative are the three main Fortnite game options. The most popular game option, Battle Royale, has a selection of regular game modes, as well as a selection of limited time modes, or LTMs, which, as the name suggests, appear as an option only for a set period of time before they are replaced by something else.
Regular game modes form the core Battle Royale play experience and feature Solo, Duos, and Squads. LTMs feature different weapons, win conditions, and more, but they are usually a Solo, Duos, or Squads game type. There's also Playground mode under Battle Royale, which is a more limited and restricted form of Creative.
Fortnite Save the World
Save the World, which is available to PC/Mac, PlayStation 4, and Xbox One players, is what is known as a Player versus Environment, or PvE, game. Unlike its more popular offshoot, Battle Royale, which is a Player versus Player, or PvP, game, Save the World is a cooperative, mission-based game of survival in a destructible world. You play with up to three other people on a randomly generated map to fight against a storm, rescue survivors, build structures, craft weapons, find loot, and upgrade and expand a shield device to protect your base of operations.
As of this writing, Save the World is still in early access and requires a payment of $39.99 for the Standard Edition of the game mode, and $59.99 for the Deluxe Edition. Epic Games has stated that they intend to make this mode free to play some time in 2019.
The skills you learn from playing Save the World can be applied to the rest of the Fortnite experience and vice-versa. For instance, in all game modes you use a pickaxe to knock down existing structures and collect resources like wood or metal. Similarly, you use those harvested materials in all game modes to build and repair structures like walls, floors, and stairs, although only in Save the World can you upgrade structures.
As of this writing, Save the World costs money to play, but, like Battle Royale and Creative, is expected to go free some time in 2019 once Epic Games feels the game mode is more developed.
Fortnite Battle Royale
Battle Royale is the Player versus Player, or PvP, game mode that put Fortnite on the map. You and 99 other players start off in a flying battle bus, find a landing spot, then race to collect materials, weapons, and other loot to defeat the other players.
For the Solo game modes, it's you against 99 other players. (See the following figure.) For Duos, you can team up with a friend (or friendly stranger) against 49 other teams of two. In Duos, your partner can revive you if you're wounded. For Squads, you join a team of three other players and try and be the last of 25 four-player teams standing. Squads is usually Fortnite's most popular mode.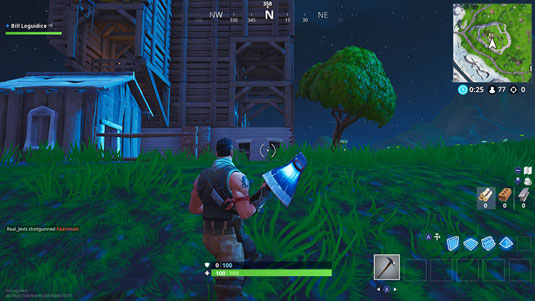 Playground, which was formerly an LTE, or Limited Time Event, but is now a permanent addition, lets you play solo or with up to three other players for a more restriction-free play experience. You get a much longer time limit than with other modes, allowing you to more freely explore the map, harvest materials, build things, search for chests, and more. You can still fight, but only against your other three friends.
With Duos, Squads, and Playground, you need to decide between Fill or Don't Fill. With Fill, if you have less than the number of players needed to form the required team size in a particular mode, the game will automatically match you up with other players. If you choose Don't Fill and don't have a full team, you will be going up against other, properly sized groups, at a disadvantage. Don't Fill is an unusual option to say the least, but it is an excellent example of how incredibly customizable the Fortnite experience really is.
Fortnite Creative mode
In Creative mode, you gain access to your own private island, where you can pretty much design or do whatever you want, including inviting your friends over for some playtesting. You'll have all kinds of materials at your disposal, so you can do more than just build structures. In fact, this mode is designed around the concept of creating new game types with the Fortnite engine, including deathmatches, races, soccer matches, skate parks, arenas, and more, as in the example.

You can save and load your creations, so you're free to be as creative, or destructive, as you like. You can even enter special Fortnite Creative codes to load the amazing creations of others, which range from elaborately designed adventure mazes to playable mini golf courses and everything in-between. The possibilities really are staggering with the versatile Fortnite game engine.