How to Sync a Portable Media Device in Windows Vista
How to Sync a Portable Media Device in Windows Vista
If you use a portable media device, such as an MP3 player, in Windows Vista, you can use Windows Media Player keep that device's files up to date. When you synchronize (sync) your portable device with the Windows Media Player, you make sure that your portable player holds all your latest songs and playlists.
1

Open Windows Media Player and connect your device to your computer.

A Sync List pane appears on the right, and you'll see your device listed in the Navigation pane.
2

Click and drag the items you want to add to your portable devices from the Library into the Sync pane.

These are items you want to add to the device.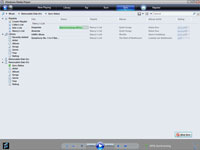 3

Click Start Sync.

The Sync status shows in Media Player. When it's done, all items will show as Synchronized to Device.
4

If you want to sync another connected device, just click the Next Device link in the Sync pane, build your sync list by clicking and dragging items to the pane, and click Start Sync again.

Remember that you'll need to create the Sync List again for each device.
5

When you're finished syncing your files, click the Library button to return to the main Windows Media Player screen, or just remove your device.

If you have trouble syncing your device, be sure to check its user manual. With new types of devices coming out all the time, some may be configured differently and need to be set up to work with your computer and Windows Vista.