How to Delete Cookies in Microsoft Internet Explorer
How to Delete Cookies in Microsoft Internet Explorer
Part of cleaning up your computer and maintaining it efficiently is to delete cookies by using Internet Explorer in Windows Vista. There are pros and cons to allowing cookies to be saved on your computer. Cookies embed information about you and your Internet browsing habits on your computer, which Web sites can use to predict your buying interests or remember your preferences. That information can be used to push annoying pop-up windows at you, or simply suggest products you might be interested in buying when you revisit a favorite online store.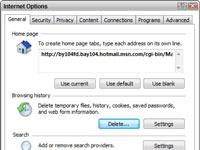 1

Open Internet Explorer and choose Tools→Internet Options.

The Internet Options dialog box opens, which you can use to control how Internet Explorer functions.
2

Click the General tab and then click the Delete button in the Browsing History section.

The Delete Browsing History dialog box opens, giving you several options for clearing out Internet clutter.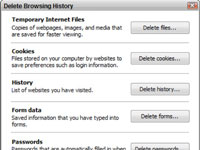 3

Click the Delete Cookies button in the Cookies section.

A confirmation message asks whether you want to delete the files.

If you wish to further clean out your computer, you can choose to delete any of the other types of browsing history. However, Temporary Internet Files are the only ones that actually take up much space.
4

Click Yes. Click Close and then click OK to close the open dialog boxes.

No more cookies for you!