How to Create a System Restore Point in Windows Vista
How to Create a System Restore Point in Windows Vista
Every once in a while, it's good computer practice to create a system restore point in Windows Vista, particularly when you install some software or tweak some settings in Windows and things seem to be running just fine. Creating a system restore point is just like backing up your files, except that you're backing up your settings. Once a month or once every couple months works for most people, but if you frequently make changes, create a system restore point more often.
1

Choose Start→Control Panel→Backup Your Computer (under System and Maintenance).

The Backup and Restore Center window opens.
2

Under Tasks, click Create a Restore Point or Change Settings.

The User Account Control might display a dialog box asking for your permission to continue; if so, click Continue.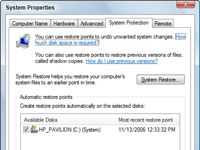 3

On the System Protection tab of the System Properties dialog box, and click Create.

This will create a restore point on the System drive, usually C. The System drive is selected by default, but if you have more than one drive, you can create a restore point for any of them. If you select an additional drive, you'll notice that the Create button dims. To create the restore point, click Apply.
4

Enter a description; this description is helpful if you create multiple restore points and want to identify the correct one.

The current date is usually your best bet.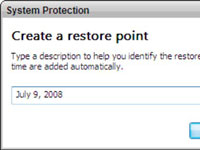 5

Click the Create button.

The system restore point is created and is available to you when you run a System Restore. A dialog box appears telling you the restore point was created successfully.
6

Click OK and then click OK again to close the Control Panel.

Remember: This doesn't back up your files, only your settings. If you lose some files, a Restore Point won't help.